Regions of Valencia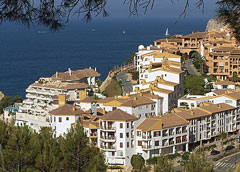 Nowadays Valencia is composed of three provinces: Valencia, Alicante and Castellon. The most popular tourist regions here are Costa Blanca, Costa Azahar and Costa de Valencia stretching along the Mediterranean coast.
Each of the provinces attracts tourists by all modern facilities for summer holidays. Some of the resorts are more popular, some are less popular but in general, tourist business is highly developed here.The first class summer resorts are in the province of Alicante. The most famous resort in Valencia is Benidorm. Denia and Torreviekha are less popular but as comfortable as Benidorm. The province of Castellon attracts tourists to small towns with great hotels such as Peniscola, Oropesa and Alcosebre. The province of Valencia is famous for such resorts as Gandia-Playa, Sagunto and certainly the capital of the Community - the city of Valencia.
The city of Valencia is worth seeing, because we may speak about it a lot but say nothing. The landscape of the city, both architectural and cultural, consists of old traditions and architectural innovations. The old Cathedral is situated here where, according to the legend, the Cup of Sacred Grahal is kept. In the vicinity of it there is a modern City of Arts built in 1998. The most famous holiday of the whole Spain which is called the Phalyas Parade is organized in Valencia.
The region of Valencia consists of dozens of municipal districts which are called here "comarques". Not only sea resorts but also spa resorts attract tourists to Valencia. The tourists can also visit medieval cities and towns such as Orihuela, Villareal, Bunol.